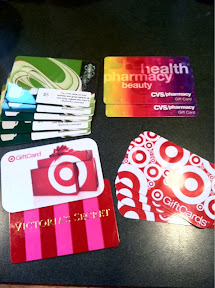 Have you signed up with your Bank or Credit Card's Rewards Program? If not, you should consider it!
I signed up for my check card rewards when it was first being offered by my bank. Over the years I have gotten more than my fair share of gift cards! At first I was excited for my "FREE money" in the form of Gift Cards and would get them to stores in the mall. While I still do that occasionally, I mostly choose the gift cards for the places I coupon at!
I got all of these gift cards in the mail yesterday, just from redeeming my Rewards Points!
Two $25 CVS Giftcards
One $25 Target Giftcard
Four $10 Target Giftcards
One $25 Victoria Secret Giftcard
Five $5 Starbucks Giftcards
I know you have to spend to get these, but its a nice little bonus every couple of months! Plus some of the Starbucks and Target Giftcards will be perfect for Christmas gifts!