This weekend Chris and I went to Atlanta just as a weekend getaway.
While in Atlanta we went to the aquarium, CNN Headquarters and the World of Coke.
While in the World of Coca-Cola we saw several versions of the FIRST COUPONS EVER!
Isn't that cool!
They also had an exhibit on what things cost in the 1900's and I thought it was interesting.
How about a newspaper... Only $.01!!!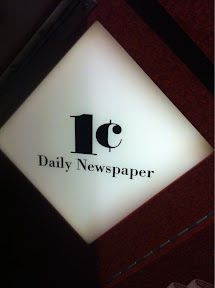 How about toothpaste... $.25!
Yikes! I thought toothpaste was a little pricey over a century ago! Thank goodness for coupons that usually make toothpaste FREE... Or less than $.25 nowadays!
And Thank you Coca-Cola for creating coupons!
Sorry I haven't posted the weekly match ups but the deals will be coming soon!
- Posted using BlogPress from my iPhone