So I have been REALLY behind with some of my posts this month. I just don't know where this month has gone! But I am finally getting back on track!
The past few weeks I have still be getting my mail! And some of it has been great!!
I finally got my Alpo sample! And I am also a member of Victoria Secret's PINK Nation! They just randomly send you coupons, like the one about, for money off or FREE underwear!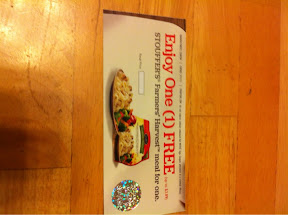 A few weeks ago I also got my FREE entree from Stouffer's in the mail!
AND then I got my FREE Jif "sample" coupon in the mail!
I also save and get giftcards by redeeming my credit card points! Here I redeemed some of them for a $25 giftcard at Target! AND I always see if there are any reduced points giftcard deals so I am still getting more for my money!!
What kind of stuff have you gotten in the mail?
- Posted using BlogPress from my iPhone