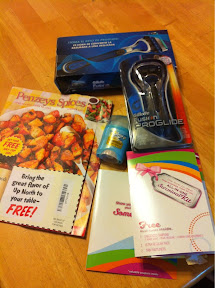 Holy Moly did I come home to a TON of awesome mail today!
Remember that text offer for a FREE Gillette Fusion Proglide Razor that was in Spanish that I mentioned
here?
If so, I finally got my razor in the mail! Those text offers really do work!
Then I got bunch of feminine product samples including a travel sized Secret deodorant from
beinggirl.com.
I had signed up previously but can't recall signing up for anything at all this year from them! This one was truly a surprise! And it came with coupons!!
And last but not least I received my catalog from
Penzey's Spices.
I love this spice shop AND this catalog because on the front is a coupon for a FREE Northwoods Seasonings. Each catalog has a different FREE spice! And I have liked them all, Especially the pasta sprinkle! If you have a Penzey's Spices near you, sign up for a free catalog
here!
Have you gotten anything exciting in the mail?