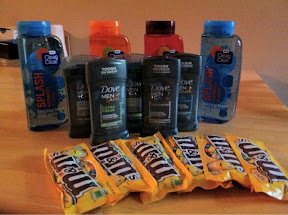 I'm not sure I have expressed this before but I LOVE CVS! The store I shop at is almost alwas fully stocked and has the friendliest cashier. On top of all of that, CVS has so many ways to get money back, like the Beauty Club, the Magic Coupon Machine, Quarterly Spending and your Regular ECB deals to name a few!
But enough about how much I love CVS, let me tell you my favorite deals!
I started out with $7 in ECBs ($5 from $50 in Beauty Club Spending (Before Coupons) and $2 from the Head and Shoulders). My Before Coupon total was $34.05 and paid $2.22 after tax and got a $5 ECB back!!!!
I bought 4 Clean and Clear Body Washes on sale for $5.79 and when you spend $15 in Clean and Clear Products you get $5 in ECB! I used 2 B1G1 coupon from the 3/27 SS and 2 $2 off coupons from
here
making them $1.90 each!
I also picked up 6 bags of Peanut M&Ms on sale for B2G1 and I used 2 of the B2G1 Coupon from the 3/13 RP (and it expires today!). If you don't have the coupon from the 3/13 there are coupons for B2G1 Peanut Butter M&Ms, Snickers, Dove or Twix from the 3/27 RP! I also had 2 $.25 off 3 CVS coupons that came out of the magic coupon maching today and one from last week!
And the BEST deal of the week is on Dove Men's Deodorant on sale for $.99! Use the $1 off coupon from the 3/27 RP and get it for free (limit 5)!!
One other deal that I passed on but wanted to share is on Blink Tears on sale for $7.99 and you get a $7.99 ECB back, use the $1 off coupon from the 4/2 SS and make this a money maker!
What deals did you get from CVS?
Happy Shopping!