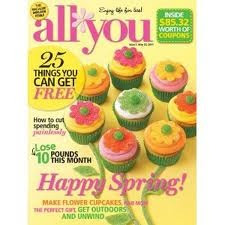 Beyond the coupon inserts in the Sunday paper, magazines are a great resource for coupons.
They can come in all kinds of magazines too! For instance, Chris has a subscription to Men's Fitness and we found a coupon for a FREE Axe product in it! (Mind you this was over a year ago). But I find coupons in Good Housekeeping, Redbook and Shape all the time! But it's usually only one or two coupons in them.
But there is one Magazine that is ALWAYS FULL of coupons! All You Magazine!!
It's filled with coupons, money saving advice and household tips! Even without the coupons I would enjoy the magazine! But the coupons are pretty awesome!
Right now Walmart has All You magazine on roll back for $1.88! If this magazine is new to you, I would just pick up a copy to see if you like it!
And just like the Sunday Coupon Inserts, the coupons in All You change with each issue!
If you do decide that you like this magazine you can pick up a 6 month subscription for $10 or a 12 month subscription for $19.95 which is just $1.66 an issue from
Amazon
! And it's free shipping with magazines! Go
Here
to check it out!!
- Posted using BlogPress from my iPhone