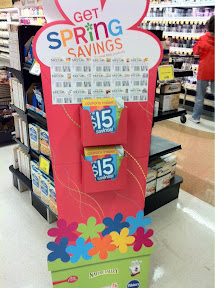 General Mills has a NEW coupon booklet out called "Spring into Savings!".
I found this display in Schnucks and it contains 15 coupons!
There is a $1 off any 3 Old El Paso products (excludes Refrigerated, Frozen or Soup products)! That means you will probably be able to score some CHEAP taco seasonings this week with all of the Cinco de Mayo sales going on!
Plus these coupons don't expire until mid June!
To make these coupons even sweeter there is a $1 off 3 Hamburger Helper coupon in the booklet! AND next to the Hamburger Helper in the store I found a coupon for $2 off Ground Beef wyb 3 Hamburger Helpers! Combine these with a sale to score some cheap hamburger helper and meat!!!
Happy Shopping!
- Posted using BlogPress from my iPhone