I ran to Walgreens yesterday because they had an in-ad coupon for Walgreens Brand 20 ft foil making it $.69. I was on my last roll of foil so I figured I would pick some up! But when I got there, the store only had 25 ft size! I took it up to find out if they had any of the 20 ft size and turns out they never got any. But because they only received the 25 ft size, they were offering the 25 ft at the same $.69 price! I picked up 10 packages for $7.33!
While this wasn't as cheap as I usually get stuff, it was something I needed since I was on my last roll! Plus I had some wiggle room in my budget for it!!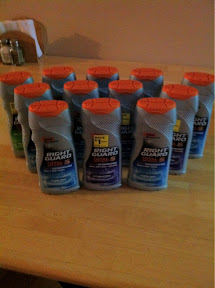 This morning I went to Walgreens for one thing... the FREE Right Guard Body wash. I ended up buying 12 because for once Walgreens was stocked up!! I was hoping that they would be so that I can donate more to those who were hit by the recent outbreaks of tornados. But I guess I started the day off right today with 12 Body washes I paid a whooping total of NOTHING! And if you want to score some free Right Guard Body Wash too check out my post
here
!
How did you do at Walgreens today?