I finally got a chance to get to the drugstores yesterday! I felt like I hadn't been in forever!
But I started out at CVS where I picked up 6 3-pk Ivory soaps that I had a raincheck for, 5 Fuze drinks, 4 Oral B toothbrushes, 2 Crest toothpastes, 1 Bic Soliel Shimmer Razor, 1 Sure Deodorant, 2 Nature Made vitamins I found on clearance, 1 Preparation Wipes and 2 M&M singles for $7.67! And I still have a $2 ECB left!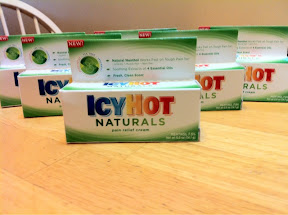 Then I went to Walgreens, I picked up 6 ICYHOT creams all for FREE!
Then my last stop was Schnucks! I picked up 5 Weber spices and 2 Blue Bunny Ice Creams for $3.10!!
I also wanted to show you all my GREAT clothing finds from this weekend. Banana Republic Outlet had 40-60% off everything in the store. That made my clearance finds (the 2 on the left) that were $3.97, only $2.38 each! And the one in the middle was on clearance for $9.99 and I picked it up for $5.98!
Old Navy was also having a sale where the ENTIRE outlet store was 40% off! I picked up both shirts on the right for $5.50!!
Did you score any great deals this weekend?
- Posted using BlogPress from my iPhone