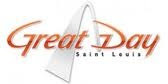 Check me out TOMORROW (May 20) on Great Day St Louis at 10am on KMOV!!
I will be taking a trip to Shop N Save with Virginia Kerr and show her how I save with coupons!
I will admit, it's not one of my best trips, but I was still pretty happy with it.
Hope you enjoy it!
AND keep an eye out tomorrow for Coupon Phenomenon's FIRST Giveaway!!!
- Posted using BlogPress from my iPhone